Aurora (Maribeth) & Josie (Tracey)
Adopted July 2008 and November 2003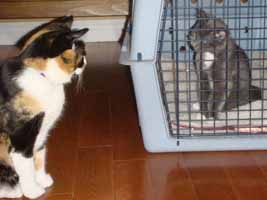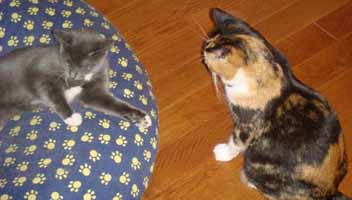 JOSIE MEETS AURORA
I adopted Aurora (formerly Meribeth) July 25, 2008. She is a beautiful silver grey colour with white paws and white on her chest area. I had seen her photo at Pets Choice and kept thinking what a sweet little kitten. I adopted Josie (Tracey) a beautiful Calico in November 2003 as a kitten and thought it would be nice to have another cat in my home. Josie is now 5 years old, very gentle and friendly. The introductions did not go quite as I had anticipated. I certainly didn't know that Josie's tail could get quite so large nor had I ever heard her hiss or make the kind of sounds that were emanating from her that July day. Fortunately, with advice from Helen, and a home with a physical layout which offered a slower introduction between the two, all ended in harmony. The two of them were getting along within two weeks.
Aurora will be 1 year old this month. She is quite the character and a joy. Josie is extremely tolerant of Aurora's antics. Josie will be sleeping and Aurora will run and dive on top of her. Josie will defend herself and then just walk away. They are good company for each other and are constantly grooming each other. It is good for Josie to have someone to play with as well as it keeps her active.
Aurora is a climber and to my horror has recently started to climb up onto the top of the kitchen cupboards. She knows that I don't approve but she gives you the look and you just melt, then I take her down. She loves to play with her many toys, loves to play in water, is extremely friendly and most of all a wonderful addition to my family.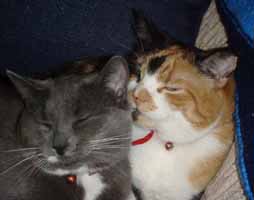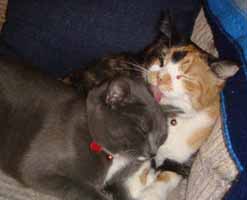 Thank you for allowing me to adopt two wonderful girls. They are such an added joy to my life and that of my family.
Arlene Wilcock