Bailey (Lauren)
Adopted October 2005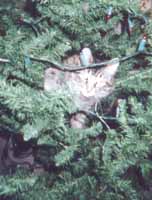 I adopted Bailey (formerly Lauren) in October 2005 from AWA. She has adjusted very well to her new home. Her older sister, Annabelle (7 years old), has accepted her and they get along very well.
Bailey is a very curious cat and loves to explore everywhere (high and low places). She loves to be petted and is very gentle. Bailey is excellent with kids. Her favourite spot this Christmas was up the Christmas tree (the tree did not fall once)!!
I would like to thank everyone at Animal Welfare for their care and dedication to Bailey and to all the other stray cats. You all do a fantastic job.
Geri