Calleigh (Roseanne) & Duffy (Shadow)
Adopted February 2005 & November 2005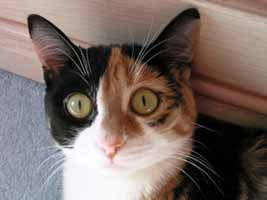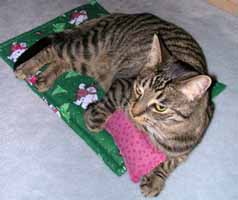 CALLEIGH DUFFY
Calleigh was chosen from this great web site because of her supermodel good looks. When she came home, however, it was soon apparent that she was a very disturbed little girl. To call her shy would be an understatement. She was cautious, mistrustful and spent the first 2 months hiding under things. Some might have given up on her, but I was determined to win her over and spent 2 months crawling under things - talking softly to her, lightly petting her, and just generally having her get used to my presence without pushing her.
Today, my reward is an incredibly sweet-natured, highly intelligent, affectionate, attention-seeking, loving little creature. She still has her boundaries - she won't sit on laps and can't be picked up, but she gives lots of love in other ways. The moral of this story is: PLEASE do not give up on a withdrawn pet! Have patience and give all the love you have to give and they will come around!
Calleigh loves human companionship, but she was lonely when the humans went on the other side of the door for hours and hours (attention humans: read - went to work). She needed company of her own kind and of course, the only place to look was Animal Welfare Association of Hamilton again! Dale offered her expert advice on a personality match for Calleigh and I mentioned I still wanted a cuddle-cat. Enter Duffy!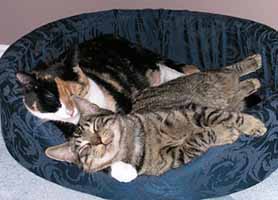 Within a few days of bringing Duffy home, the bond was forged ... Calleigh and Duffy were in love (thank goodness for spaying/neutering!)! They couldn't get along better, and they can never be separated ... quite literally, as you can see from the photo!!
As for Duffy, he's the polar opposite of Calleigh: outgoing, fearless and laid-back. Unfortunately dumb as a post (bless him), but that just adds to his irresistible charm! He purrs non-stop and is the biggest cuddle-cat you'll ever meet! I profess total guilt in making him a hopeless "mama's boy" in this respect!
Duffy's winning personality has earned him celebrity status at his vet's office! When he comes in, he is met with a resounding "DUFFY!!" from the swooning veterinary assistants that swarm his cage, all clamouring to be the first in line to pull him out for a cuddle! He even gets gifts (see photo) when he goes there from his biggest fan, "Auntie Lindsay", and receives his own fan mail!!
AWA, thank you so much for all you do for the animals you rescue and for bringing them into our homes. I am blessed ... doubly.
Sincerely,
Karen Saunders