Calvin (Alvin)
Adopted July 2002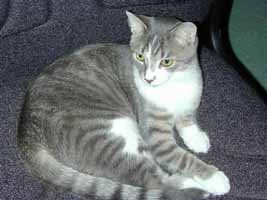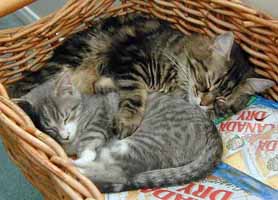 CALVIN CALVIN & DAKODA
Calvin, formerly known as Alvin, has been with us since July 16, 2002. I was browsing through AWA's website one day and I completely fell in love with this little guy. Went to see him a few days later and I was hooked - had to take him home with me! We decided on the name Calvin, after Calvin Klein!
He must have had a rough start in life. He was quite skittish, didn't really want to be touched, and had digestive problems for months which we thought was attributed to an illness, but it was a simple change of diet that changed everything. We're so relieved. It took just two days for our other two cats to warm up to him. He's still a bit skittish with strangers but he's getting better day to day. He's becoming more affectionate each day and loves to sleep with us every night. His favourite place to sleep is on our pillows, so of course we share ours with him.
Our other male, Dakoda (another AWA success story) just loves him. They're the best of friends. Calvin loves chasing Dakoda and stealing his toys and eating his share of wet food. He enjoys picking a fight with our female cat - not a good idea as I've mentioned that to him. At dinner, he won't jump on the table. Instead, he sits on one of the chairs and watches us. He's too cute!
Thanks again AWA, you do a phenomenal job!!
Margaret and Bob
Hamilton, ON