Charity (Claire)
Adopted December 2002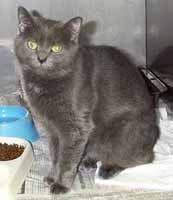 Charity, (formerly Claire) wishes to thank all her good friends at AWA and the Rockland Veterinary Clinic for their loving care and for arranging her adoption.
She has made a remarkable adjustment to her new home - enjoys all the attention, the brushing, the hugging and even sleeps all night cuddled up tight. What a sweetheart!
Keep up your excellent community service!
Sincerely,
Charity and Martha