Cheecho
Adopted October 2012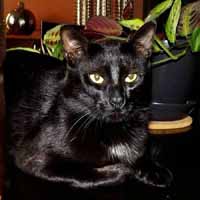 When Cheecho came to us he was just a kitten and was starving. He was crying on our door step. His spine and ribs were showing through his skin, his fur was matted, he had fleas and had a terrible ringworm infection all over his face. We couldn't leave him outside in this state and we didn't have anything to feed him. We scoured the cupboard looking for something suitable when we found a can of flaked chicken.
Well, we couldn't open the can fast enough. As soon as we put it on a plate for him, he scarfed the entire portion seemingly without chewing.

My partner and I squabbled a bit over whether or not we should do more to help this little guy. We walked into the living room only to find that he had made himself right at home and was sitting 'crossed pawed' on the couch like a statue. We both looked at each other and proclaimed that he was now a part of the family. But given our financial circumstances at the time we were unable to pay the vet bills needed to nurse him back to health.

We scoured the internet to find help and stumbled upon Animal Welfare Association of Hamilton and thankfully so. The AWA of Hamilton really took charge of the situation and directed us on the right course of action. They even provided us with a ride to our vet appointments!!! We couldn't believe it. He recovered quickly and after 6 months of fostering Cheecho, we decided that we would adopt him. He is the most handsome cat we've ever had and we love him very much. He came into our lives for a reason and thus he stays.

Thank you AWA, without you we don't know how things would have turned out.

Thanks again,
Wes