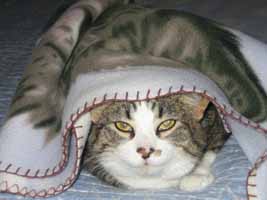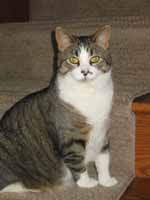 Thought we would write to you to let you know how China (also affectionately known as "Chee-Chee" around here) is doing since we adopted her.
We brought China home in early January, after also introducing a new dog into our household just before Christmas. Crazy? Maybe, but so far so good! China is settling in nicely, and has "tolerated" our new dog quite well. We are hoping that one day they will become good buddies, but for now, we are happy that they are cohabiting in harmony.
China is a loving little cat, sometimes skittish, but certainly curious to see what is going on in the house at all times. She enjoys exploring whenever, and wherever, she can. She is lively, loves to play with her cat toys, snuggles under blankets, and jumps onto the bed to be patted. She also comes when her name is called (we think it's to show the dog he's not the only one who can do so)! She has also grown accustomed to our 16 year old African Grey parrot, and doesn't seem to mind having various pets in the house with her.
We are very happy with our newest little addition, and we're pretty sure that she's happy to be here, too.
Thank you both for the wonderful work that you do at AWA. China is our second cat that we have adopted from AWA, and we would not hesitate to recommend that anyone looking for a loving pet come to see you.
Kind regards,
Cam, Liz, Lucas, and Meagan