Daphne
Adopted May 2002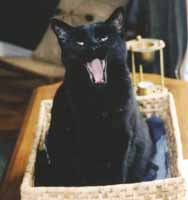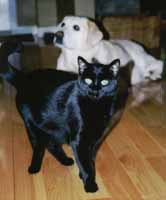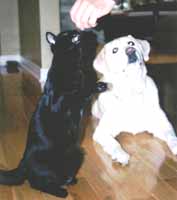 DAPHNE DAPHNE & MOLLY
Hi, it's me, Daphne (Moon). I just wanted to send a note and say hi to the old gang. I just celebrated my one year anniversary with Doug, Kelly, Mathew, Kyle and of course, the lab, Molly. I've learned quite a few things in the past year. Molly may have helped teach but I can sit, give a paw and roll over on demand, and most important, I understand that no means no!
Sometimes for a treat Kelly takes me out on the upper balcony for my brushing and it's soooo nice. I sleep with them every night on a big king size bed. Kelly's knitting me my own blanket with a cat face on it for when the nights are cool
because they sleep with the deck doors open. I wake her up every morning at 3 a.m. with kisses on her eyelids and she feeds me but puts my dish under the bed so Molly can't get to it.
I'm going to spend quite a bit of time at a new cottage this summer. I hate the drive in my carry case but once I'm there it's worth it. I sit in these big window sills and watch the birds and animals. They told me that they are going to screen
in part of the deck for me, then it will be like being outside only safer! I miss you all but must admit, life is pretty good.
Take care and keep up the worthwhile work,
Love,
Daphne (Moon) Sheehan Ferguson