Ellen
Adopted February 2003
April 2007 -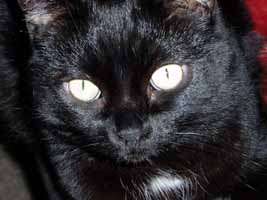 Hey there friends at AWA,
Ellen the cat and I just wanted to take the time to say hello as it has been awhile since we last did an update. Ellen has grown into quite the little lady and very much so calls the shots around here and is the boss apple sauce. Lately she has taken on a funny habit, you see mom here works shift work, gotta make the money to buy fancy cruchies, toys and treats. Well Miss Ellen here has taken to sleeping on my pillow and pulling my hair out of my ponytail. She thinks it's party time all the time so this is her new thing and it seems to work on her behalf. She loves to talk a lot, lol, and if she wants your attention she will let it be known and at times is a bit bossy. Ellen is a cuddle monster, I think its her favorite pastime. We curl up on the couch and she puts her wet nose on my arm and hides her face. I laugh every time she does it and then will lift her head up for kisses on the top of her head. She is the world's most sucky cat and this is why I love her like crazy. Well friends, we hope all is well with you as we are doing purrrfect. Take good care.
Ellen the cat and Lacey Adrian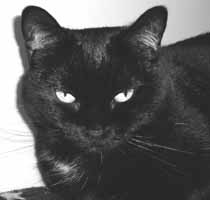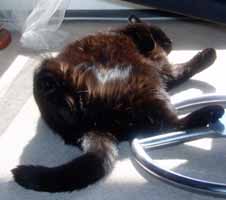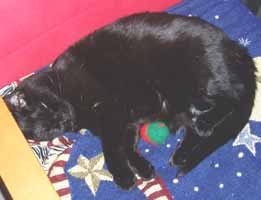 P.S Here are some new pictures of me, am I cute stuff or what?