Harley (Bagel)
Adopted March 2004
Update # 1 - December 2005 -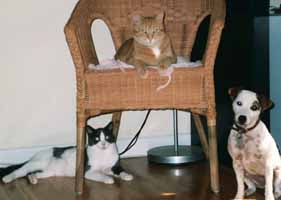 HARLEY, SADIE & SOPHIE
Hi everyone at Animal Welfare. This is Koral and I adopted Harley (Bagel) about a year ago and wanted to give you an update and how he is doing. Harley is a blessing. I can honestly say that I've never met a cat with such a nice personality. He is the sweetest boy. He also has a new addition in the family that he didn't have last time we spoke. He now has his sister Sadie (cat) and the newest is Sophie (dog). The three of them make their mom and dad very proud and extremely happy. Harley and Sophie will soon be getting certified as therapy pets, which I think they will excel at. Thanks again for taking care of our sweet boy. And I hope to keep in touch.
P.S. I have attached a photo for all of you to enjoy ...
Sincerely,
Koral Falldien, Sadie, Harley, and Sophie
Update # 2 - February 2009 -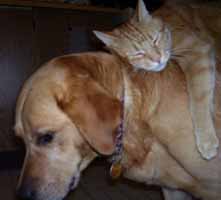 HARLEY & KALI
It's been awhile since I wrote to you, so I thought I should. We adopted Harley, formerly known as Bagel back in 2003. His litter mates were Muffin and Timbit (if you remember them, I know there's so many)*. Anyways a few years ago we moved to Sault Ste. Marie, so that is where Harley is enjoying life. He is now 6 years years old and is just the biggest sweetie ever! He has several siblings, one which is in the picture I attached. That would be Kali and then he has 3 cats and 4 dogs that he loves to spend time with. We are at our quota. We can't save everybody which is so hard. His favourite spot to lay down is right in front of our heat register or in front of our window. He's a very calm cat with a hilarious sense of humour. He wakes us up first thing in the morning to make sure that we're on schedule to feed everybody, or wait, just him, LOL! He never forgets a meal. Anyways thanks for telling me about this sweet boy because our lives wouldn't be the same with out him....
Take care,
Koral Falldien :o)
*[We sure do remember the bakery kittens - Bagel, Muffin, Timbit and Cookie.]