Hughson
Adopted June 2004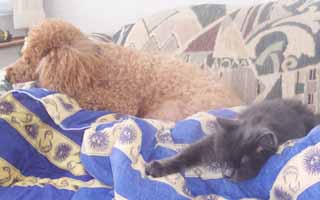 CASEY & HUGHSON
It's now been about a month since Hughson joined our family. While working at a vet clinic I noticed Hughson was boarding there and he was so skinny and had the cutest girly meow. When I finished working there I just had to bring one of the
adoptable cats home and since I got to know him so well I decided to get Hughson. He fits in purrr-fectly and makes us all happy. We thought bringing another cat home wouldn't be a good idea as our other cat is approximately 16 but he gets along with our dog (Casey,6) and cat (Brewster,16). Although Brewster does get mad at Hughy, we know he really likes him deep down inside and it helps that Hughy's new catnip ball is Brewster's new favourite thing in the world now. Hughson ( Hughy ) can be very vocal at times but most of the time he's out finding new and unusual ways to sleep and playing with his ball. He enjoys car rides, relaxing up north at our cottage, searching through open cabinets and lots of sleeping. Oh, he also loves to lay on the bathroom carpet or hide behind the bathroom wall. He scares me almost every morning with a squeaky girly meow. He seems to be very comfortable and grateful to be with us and we truly love him with every bit of our hearts.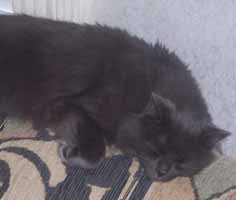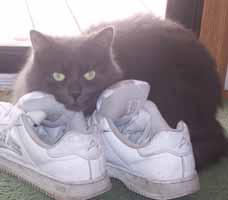 I've taken millions of pictures already and everyone says I act like he's my child, which he is. The first picture is of him and Casey sleeping side by side, second is him sleeping on the sofa in the cottage (totally relaxed) and third is him going to take a nap on my shoes. Thank you, Animal Welfare, for rescuing Hughson and bringing him into my arms and heart. What you do really means a lot to the animals and the families who adopt them.
Love You Guys,
Hughy and Ashleigh