Jenna
Adopted September 2002
Hi, my name is Nancy and I adopted Jenna, a 5 1/2 month old kitten, from you. I wanted to let you know how she is doing. When I brought Jenna home she was only 3 pounds and now she is 5.5 pounds. She was so frightened at first but now she is so courageous. She absolutely loves my older cat and loves to play with her. Jenna is the happiest when food is around. Everybody who meets Jenna immediately falls in love with her because she has such a wonderful personality. I just wanted to thank you for letting me adopt such a wonderful cat. She has changed my life and it's much fuller with her in it.
Sincerely,
Nancy
UPDATE, November 2003: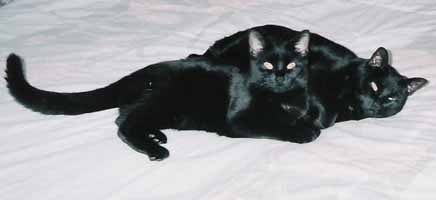 JENNA & JAMIE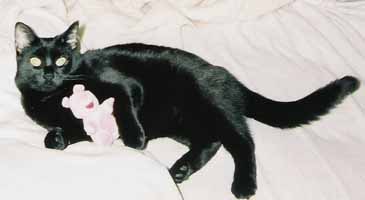 JENNA
I wanted to send you some pictures of Jenna. I adopted Jenna from you last September. She's a healthy and happy one year old. In the first picture Jenna is the first cat and the second cat is her older sister Jamie. Thank you very much, she's a wonderful cat.
Sincerely,
Nancy Sinasac
Back to Letters