Josie (Tracey)
Adopted November 2003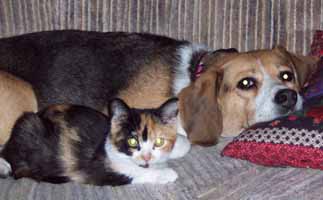 JOSIE & CUDDLES
It will be two years in November that I was at my Vet's getting Cuddles, my Beagle, weighed. She had lost her front left leg to cancer and I frequently brought her into my Vet's to ensure her weight was stable. During this visit I saw Tracey. We did change her name to Josie. She was a tiny little beautiful calico kitten. Since both dog and kitten were tri colour, the staff convinced me that they would make a wonderful pair as they matched. I also have a budgie (Sunshine) which at the time was over 10. I knew that Cuddles would be very accepting of a new family member, but wasn't convinced that Sunshine would feel the same. I also knew absolutely nothing about cats or kittens. Upon returning home that night I couldn't stop thinking of the cute little kitten and called my Vet the next morning to begin the adoption process.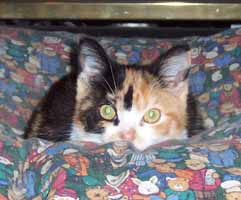 Josie is an absolute angel. I always thought that cats were aloof … well not Josie. She loves to cuddle and wants to be with the family wherever we are, and she is definitely not shy. One would usually find Cuddles and Josie together. Both loved getting their teeth brushed and it was hard to control both when the tube came out. Josie loves to lay on Cuddles' cushion and would look so tiny on this large mass … Cuddles was always very gracious and would let her have her spot and move elsewhere. Josie would like to play with her brother Sunshine and is very curious. He is safely out of her reach and holding his own at 12. He will be 13 in Dec.
My heart broke this June when we all had to say good bye to Cuddles … she was 10. She fought a courageous fight but lost her battle to cancer in the end with a large growth in her bladder. I didn't think it would affect Josie too much, but she didn't want to eat for a few days. Having Josie in our lives certainly made Cuddles passing easier. She has brought us much joy. I can't believe that she will be turning 2 approximately at the end of this month. We were not too sure when her birthday was so we decided Aug. 31 would work.
My experience has been extremely positive and I recommend adoption to anyone who is thinking of having a pet.
Thank you.
Arlene