Kippy (Kip)
Adopted November 2007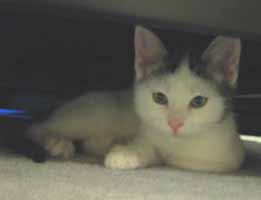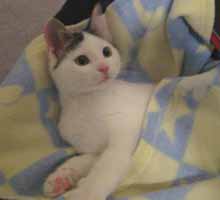 I just wanted to send a quick note to update you on Kip (affectionately called Kippy by us) who was adopted in mid November 2007.
Kippy quickly settled himself into our lives and is such a great joy for us. He is an incredibly sweet kitten with his unique quirks. He loves to be in bed with us even though he still cannot jump the distance up to the bed and after attempting several jumps where he only hits the side of the bed, he will cry until one of us gets him (he is learning to use the step we left out for him). Once Kippy is in bed, he will nibble on my hair and purr for quite awhile before he eventually falls asleep. Other things he loves to do is to chase his tail, play with his toys and use the scratching post given by Kathleen as a hiding spot to attack his toys or our feet. These activities excite him so much that he often trips down the stairs (we have padded carpeting!) or runs into walls.
When he is worn out, Kippy will nap in his favourite spot under our ottoman, or on the couch/ in our laps. When I'm working during the day in my home office, he will sit on my lap and watch the computer screen and eventually fall asleep on my lap as I work. He also loves to follow the computer mouse on the screen and will turn his head from side to side to look at it. We do not let Kippy outside, so he will often sit in front of our patio door to watch the snow falling or the neighbourhood kids playing.
I have attached a few pictures of Kippy; he has grown quite a bit since we have adopted him. Thank-you again to all the volunteers for rescuing this sweet animal and caring for him. We really are amazed at how quickly we have grown attached to him (especially my husband who did not even want a cat in the beginning).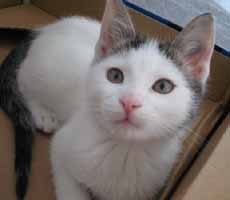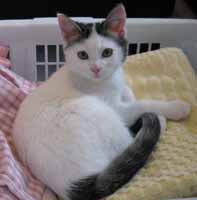 Best wishes and happy holidays,
Anh, Vik and Kippy.
Back to Letters