MacDuff (Licorice)
Adopted September 2005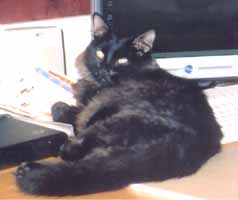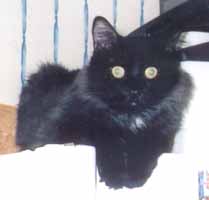 We heard about Animal Welfare from our vet, after our elderly cat passed away in the summer.
I looked at the website pictures over and over again, and decided to meet Licorice first. It didn't take long to decide that he was the right cat for us.
He's quite adaptable and adjusted to home life quickly. It's quite a change, from living with a senior cat, to a young one. He's so curious, and wants to look at and touch everything he can, whether it's from the top of the fridge or trying to check out the floor joists from the basement. You can see how 'helpful' he is from these pictures, in the kitchen and with the computer. He's getting more cuddly all the time, enjoying tummy rubs and sleeping by the furnace vents.
A huge thank you to the lady who rescued him as a stray last winter, and to Animal Welfare for looking after him until he could find a home. What a change his life has taken over the last year!
We're so thankful that we can give him the quiet and happy home that he deserves, as a sweet and loving cat.
Laura & Glen
Back to Letters