Maggie (Toni)
Adopted June 2005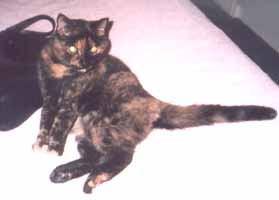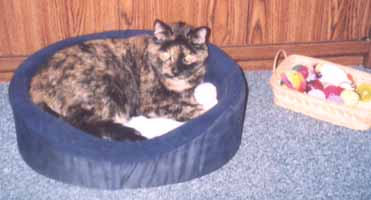 Maggie came into my life 6 months after the terrible loss of my cat Jigsy, who had cancer. (She died in my arms last New Years Eve morning with the help of my gentle Vet).
I found it very hard to get another pet, but I found your website and started looking. I felt that I would know when the right one came along. Eventually I saw "Toni", and Jigsy seemed to say, "Go on, take her"
You brought her to me and she has filled a huge hole in my heart. She is a very small and stubborn little brat who did not take very long at all to train me. She spends every minute on my lap when I'm sitting down and relaxing, and literally frowns when I have to move her. (She also smacks me with her paw if she's really uptight). She is now known as "Maggie" and I love her dearly.
The Catnip Balls that you make are the only toys that she wants. Everything else is ignored, as she takes them around in her mouth like children. Everyone should buy some from you, they're great!
I want to thank Sharon [Toni's foster Mom] for giving her such a loving home until I came along. And thank AWA for all of the hard work you do on behalf of the animals out there that need a loving place to live out their lives.
Wishing you a Very Merry Christmas, and a Happy New Year ...
With Love from Anne & Maggie Sinclair