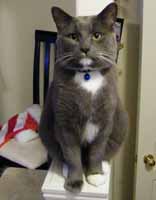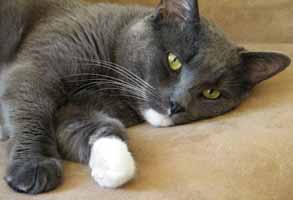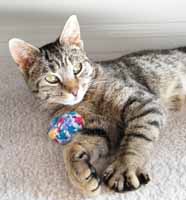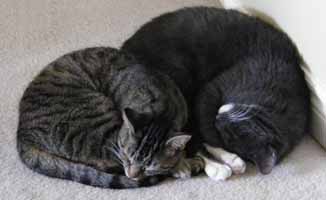 We adopted Nibbler (aka Proctor) in August 2009. We named him Nibbler after a character from the TV show Futurama. This kitty likes to nibble your hand, arm or
any convenient appendage when he's happy.
I've only ever had rescue kitties. My first girl lived to be 19 years young. Our second kitty unfortunately had feline leukemia and passed away when she was 4.
It had been a year since our little kitty named Sydney passed away from feline leukemia. I was starting to want another kitty but knew I wanted a rescue cat again.
My husband found the Animal Welfare Association and we went for a visit. I saw Nibbler (aka Proctor) immediately. He seemed to stand out from the other cats.
He came right up to us and started purring and rubbing against my leg. He seemed to announce himself without any problem. We spent a little while playing and
petting with him and I knew he was to be our kitty.
Once we brought him home he easily adapted to our home and life. He loves attention and is definitely a cat that has to be where we are. He loves to rough house
with my husband but he really is a big baby and loves cuddles as much.
In 2010 I was pregnant with our first child. I guess the hormones set Nibbler off because he wouldn't leave my side for a second. If I got up for something he had
to follow right behind. I knew that I couldn't keep giving him this type of attention once the baby arrived so we discussed getting Nibbler a sibling. I think my
previous kitty angels had heard me because not long after a stray showed up on our back porch. Nibbler was desperately trying to play with this cat through our
sliding glass doors. It seems he wanted a sibling too!!
We brought this cat in and named her Maggie. We had her checked out to make sure she was healthy and after all the tests were done we brought her home.
She apparently didn't share Nibbler's affection because she was NOT a fan of his. We kept them separate for a few months and then one day decided to let them
figure it out for themselves. It took a while and a few scrapes. One day I came into the living room and Maggie had jumped up and started to groom Nibbler. I was
shocked and elated. Not too soon either because out little boy was born a few months later.
Both cats are great with my son but Nibbler is particularly patient with him. He lets him "hug" him and pet him and grab his tail. He jumps on the couch so our son
can "pet" him every morning. Nibbler has no problems letting my husband and I know when he reached his limit but with our son he has never even hissed. I can't
imagine a better kitty for our family.
Above are two pictures of Nibbler, a picture of Maggie and the last one is a picture of the two having their morning nap together cuddling.
Sincerely,
Gaylene and Marc Caterini