Oliver (Lyle) & Sam (Bailey)
Adopted May 2004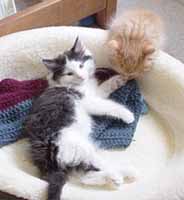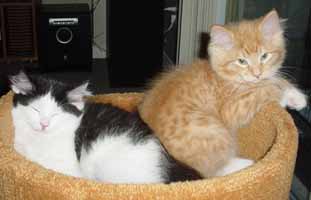 OLIVER & SAM
Hello!
Oliver and I (Sam) just wanted to let you know that we are doing great, since our adoption in May of 2004. We have so much fun in our new house, Mom and Dad are always saying that we are worse than a couple of two year olds! I cannot imagine why they say that. If they did not want us to pull the toilet paper through the house, they should not have put the roll on the wall! We have a few brothers and sisters that we love to visit, thereís Cocamo the guinea pig, I like her best, and then thereís Jack the talking cockatiel who we yearn to play with, oh and we canít forget the fish! Iím a tad bit confused about the fish though, no matter how hard we paw at them there seems to be this invisible force-field that saves their little bodies from our grasp!
Mom and Dad says that we have the greatest personalities, Iím the more adventurous one (Sam), which mom thinks is odd because when she brought me home she said I was a hissing ball of fur that was extremely skittish and scared of my own shadow! Oliver my brother he tends to hide a lot when strangers come over, but is extremely affectionate on his own time! He loves to bug mom when she is doing her schoolwork! We are an extremely vocal duo, always meowing or chortling wherever we go, sometimes we even call each other from different floors of the house!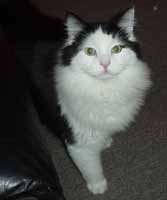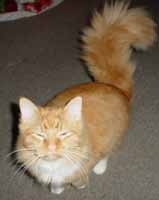 We have enclosed some pictures to show you how much we have grown!!! The first picture is from the first day we were brought home, the second picture was taken with our new toy, now we can barely fit into it! The last two pictures are the most recent.
Oh P.S. Mom and Dad want to thank all of your members for all the hard work and dedication they give to their little orphans on a daily basis!!
Cynthia, Patrick, Sam and Oliver
Back to Letters