Randel
Adopted September 2008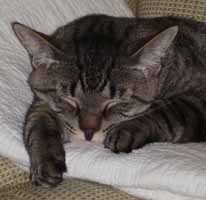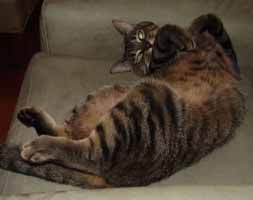 We hope this message finds you and all the kitties you care for well....
We adopted Randel on September 2, 2008. He came to our home and quickly made himself comfortable. He has become a true member of our family. He loves a couple of chairs in our living room. He will jump up on one of us for a cuddle in a chair during family movie night. He will occasionally allow us to rub his belly when he is all streteched out. He even doesn't mind when we pick him up to move him or just to offer him cuddles and love. He is very talkative too. We love hearing his little voice, especially since our last kitty was very very quiet. It seems like Randel talks to us all the time! He uses his voice to get our attention, and asks "now?" when it's time time feed him (his meow at breakfast lunch and dinner actually sounds like the word "now"!) It's really neat how he has a few different sounds/meows he makes to engage us in different ways....

We have attached a few photos of Randel in our home.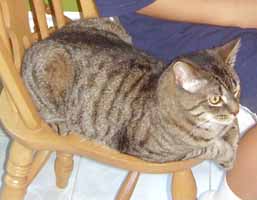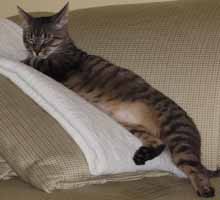 Thank you again for bringing Randel to our family.

With kind regards,

The Passaretti Family
Basiliki, Francesco, Gabriel, Nicolas & Randel!