Simon & Nola
Adopted April 2008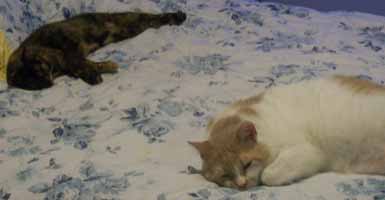 A few weeks ago I adopted Simon and Nola. (See pictures attached) Simon had to always sit on me or be watching if I wasn't sitting ... Nola hid, especially under the bed covers.
Hissy fits were the order of the day. This has gradually changed. They both like to be in the same room with me. They have learned to play, although they dont like to "share" toys. We have rows as to who is going to sit in the cardboard box (two boxes won't do!) Then I catch Simon licking Nola's face ....
At 5 am Simon walks up and down my back and Nola runs around the room and up and down the hall. Simon continues to have an overeating problem ... 'I don't know when my next meal will be' mentality, I think. Nola's anxiety scratching and constant washing issues are decreasing. They actually take turns at the crunchy food ...I could go on and on ... I am so so glad that they have joined my life.
Anne