Theo & Nyx (Daran & Christa)
Adopted March 2011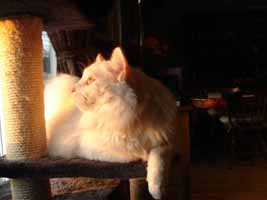 Hi everyone, my name is Theo, short for Theodore, and it means, "God's gift", and I'm a cat, so they couldn't have given me a better name, 'cause that's me to a "T". We've been at our new home just over a year. Nyx, my little sister, will tell you a little about herself when I'm done,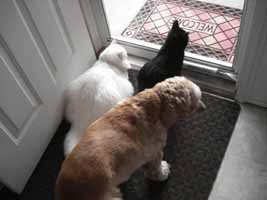 What a surprise when we arrived at our new home, there was this dog; it's a she too and her name is Luna, sometimes the name fits her well. She has turned out to be a good friend to Nyx and me, more with Nyx. Me, I just couldn't be bothered, she's a dog and she does dog stuff. But we still get along very well; she knows who the boss really is. Would you believe it took less than a week and we all slept close to each other on this big bed, somewhere there's pictures to prove it, and I have to find it before it gets out that I sleep with a dog. After a year here I really like it, lots of rooms and space like you wouldn't believe, I have my special spots and I sure use them, my new people really take good care of me, I think I really love these two, it's like they know what we need before we do, so I just sit back and let it happen. Life is good for this "Cool Cat"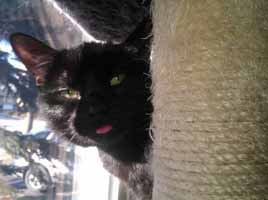 Hi everyone, I'm Nyx, my name means a figure of exceptional power and beauty. I am found in the shadows of the world and only ever seen in glimpses.
My brother Theo, well he's okay, but sometimes he wants to boss me around, but my best friend, Luna, she stays close by most of the time, I really like her, she is playful at times, and I like that, cause I just love playing, with all our new toys. Its funny Luna just watches most of the time, she has her own toys and usually doesn't bother our stuff. Our people bought us this thing they call a cat tree, it's the best, right in the front window. Theo and I sit there all day and watch the day go by and all our neighbours. We both really like our home, our people are the best, it's clean, and food's always there in our dishes, lots of toys and places to hide and sleep, life couldn't be much better. Oh, and all our friends up at Mountain Animal Hospital take real good care of both of us, and Luna too.

More to come in the future. Bye for now.