Tico
Adopted October 2004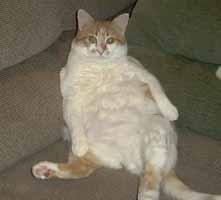 I have been meaning to write for awhile but havenít had the chance. My husband and I adopted Tico back in October and it was a bit challenging in the beginning. Tico was a very shy timid guy who would only allow you to touch him with his magical pink brush.
Every day I would coax him out of his hiding spot with the brush and each day he stayed out longer with us, trusting us a little more each day.
One day he jumped up onto my lap and that was the end. Over night he turned into the biggest suck. He follows me everywhere and gets very angry if I donít let him sit on my lap. He is a happy guy, who loves nothing more then to be stroked for hours on end. Usually we just have to put our foot out and he strokes himself. He sometimes gets a little over excited and can be pretty rough, he is a really strong. He loves to look out the window. As you can see from his picture he loves to just hang out. He is a wonderful companion and we love having him around.
A special hello to Chris at the Pampered Feline from Tico. Please let her know how well Tico is doing.
Thanks again,
Heather and Ken and Tico Buwalda
Back to Letters