Tiger (Simon)
Adopted July 2002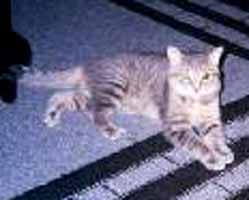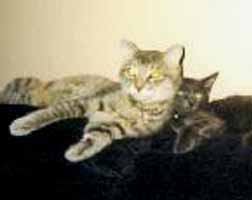 TIGER TIGER & SMOKEY
Dear Animal Welfare,
I just wanted to write and let you know how Tiger, formerly "Simon" is doing in our home. We adopted Tiger from you in July of 2002. As soon as we brought him home and let him out of the carrier he was purring up a storm. He adapted very
quickly to his new home. Tiger is a very affectionate cat although he likes to sit beside you rather than on your lap. He is also a very vocal cat and loves to talk all the time...he is especially vocal when he knows he is getting a treat like tuna! Tiger likes to play in boxes, sit at the patio door watching the birds, sleep on the couch & play with his brother Smokey. (We got Smokey later on so Tiger could have a friend/playmate). They get along great! I have also included a picture of both of them. Thanks so much for giving us the pleasure of having such a wonderful cat like Tiger! We love him a lot! We would recommend Animal Welfare to anyone looking for a cat. What you do is really great. The animals are really lucky to have people like you to help them.
Laura and Dan
Hamilton, ON
Back to Letters