~ Thank You ~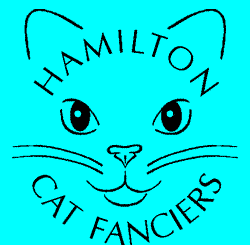 WATCH A VIDEO FILMED AT THE CAT SHOW
Thanks to Shirley Bailey from 'For The Love of Cats'

We would like to thank the Hamilton Cat Fanciers for inviting us
to the 2012 HCF Cat Show and for their generous
donations in support of our rescue work.

We'd also like to thank the HCF members for sponsoring 2 AWA cats,
Cricket and Grasshopper, in the Household Pets category.
It was quite an adventure for them and they both did very well,
winning several prizes in their category.
When they are adopted, their lucky owner will
get to keep the ribbons they won!

CRICKET AND GRASSHOPPER AT THE CAT SHOW

This year HCF generously donated $3,500 ($23,800 to date) divided between
Animal Welfare Association, Burlington Humane Society
and Animal Adoptions of Flamborough

Please visit the HCF website
HAMILTON CAT FANCIERS
The theme of this year's show was
Luck O' The LePURRchauns
and cages, cats, owners and judges were all decked out in green!

Judging: